Sunny Survives!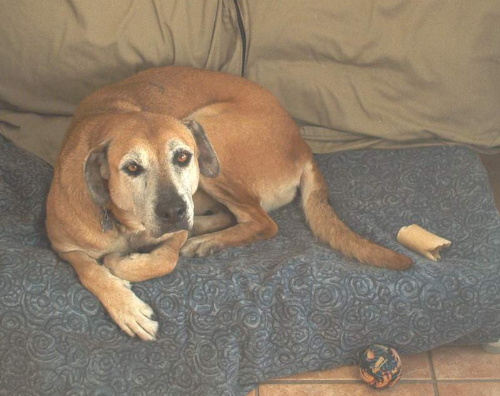 Sunny is the old lab/hound mix Pat found about 1 1/2 months ago staggering across HWY 41. She was dripping in blood, having been sliced open by what now appears to be a wild animal attack.
Never able to pass up an animal in distress, Pat immediately stopped traffic and loaded the old, gentle dog in the car and rushed her to our vet. The wound had already been infected when Sunny was found and got even worse after being stitched up because it was so deep. So it required a second cleaning, draining and opening and restitching.
Now we are happy to report that our Sunny girl has healed completely and is liking life just fine on the Spotted Dog Rescue Ranch. Every morning at 6am she begins the day with a nice long walk to the gate and back. Since Sunny is already 10 and has heartworms that are too severe to be treated, she will remain with us and be spoiled for whatever time she has left.
Sunny Girl's old graying face brightens up our days. We are thilled that she is here to be a part of our lives even if for only a short stay.