"Meet Homer!"

---
Another Canine Rescue Railroad mission just brought us this spotted boy from Miami-Dade Animal Services. Twenty-seven dogs in total were saved and transported to various rescue groups!
Homer, as we now call him, was a stray found on the streets. He has already wormed his way into the hearts of all who have met him with his big droopy sad eyes and his extented paw that he wraps around your arm. Next step is to get him healthy - then on to his own home. Thanks to Frank once again for transporting this big guy and to Claudia for letting him spend the night on his way up to the spotted rescue ranch!
UPDATED May 21st. :
After a very long recovery from a vicious strain of kennel cough, this darling boy is now ready to be adopted! Homer is about as sweet as they come. Even a two year old could walk him he is so calm. He is about 2 years old, 55 pounds, housebroken, good with other dogs and rides well in the car. If you meet him, you will love him....no doubt about it. If anyone is interested in adopting a perfect pal, please email Susan at daldoglady@netzero.net

UPDATED May 22nd. :
Is this not the most pathetic looking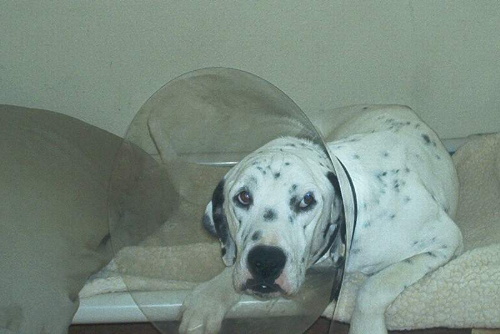 little face you've ever seen? In addition to what this poor dog has already been through, he now has a really bad infection following his recent neutering. Homer will go back to the vet tomorrow for yet another visit. Hopefully, this will be his last one for a while.
RETURN TO JANUARY 2005 ADOPTIONS