Goodbye Sweet Mystic Girl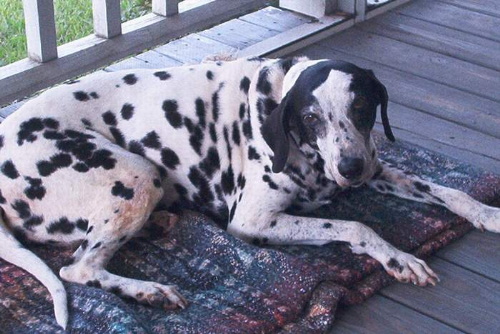 One of the hardest parts of rescuing alot of senior dogs is having to say good-bye to them sooner than we would like. In fact, most times, I make Pat do it. But this morning I was the one who had to send our sweet old Mystic over the Rainbow Bridge as her kidneys failed. We rescued her two years ago from Pasco Animal Services where her owner had dumped her when he moved. At 11 years of age, she was too old to treat for the heartworms she had so we gave her the best life we could. Mystic had fun digging in her sand yard, sunning on her deck, going for walks with her pal Spotsy and chowing down on her daily dog bones. Regardless of the limited time we may have with these wonderful old dogs, each one touches a special place in our hearts. They even get silly nicknames we whisper to them.
The final good-bye never gets easier. But we do find comfort in knowing that each one was loved at the end and held in our arms as they passed.
So farewell sweet girl...we are glad we got to have you for a little while.



RETURN TO DIRECTORY