A Short but Sweet Love Story.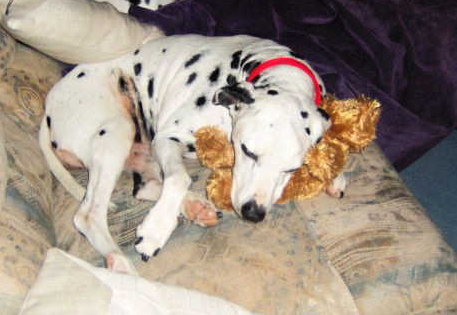 Perhaps when her owners dumped her off at Levy County Animal Services early last year, they knew she had a problem and just didn't want to deal with it. We see it happen all the time and just shake our heads in sadness. Luckily, the shelter called us and thanks to volunteer Alison B. who drove to get her, "Lucy" was given a wonderful place to live for her remaining few months on this earth. We took two Dals on that trip...the other is still very much alive and well in a wonderful home. We share with you here, Lucy's short story.
---
Hi Susan:
Thought I'd just drop you a note and give you an update on our beloved Lucy. She was diagnosed with Canine Cognitive Disease(a kind of Doggy Alzheimers). Our Vet found some wonderful medication that seemed to work pretty well for the first couple of months until she lost all power in her back legs. We took her to see an Orthopedic Surgeon who after testing her determined that the problem was neurological. It appeared that her back legs were no longer 'connected' to her brain. We took her to see a neurologist who found a massive brain tumor, that unfortunately was inoperable.
Lucy passed away on the Monday before Christmas and left a huge void in all our lives. Our other little Spot really missed her. We have now adopted another deaf Dal mix. He's only a year old and we've named him Albert(Bertie) ...... he is the perfect match and size for Victoria. They play together all day long.
Keep up the good work.
Susan D.



RETURN TO DIRECTORY